LUXURY IN THE SMOKY MOUNTAINS
More than 20 years of 5-star service
Experience over 20 years of exceptional hospitality and 5-star service at Berry Springs Lodge. Our vast array of amenities and stunning natural surroundings invite guests to indulge in the beauty and excitement of our property, creating lasting memories in the Smoky Mountains.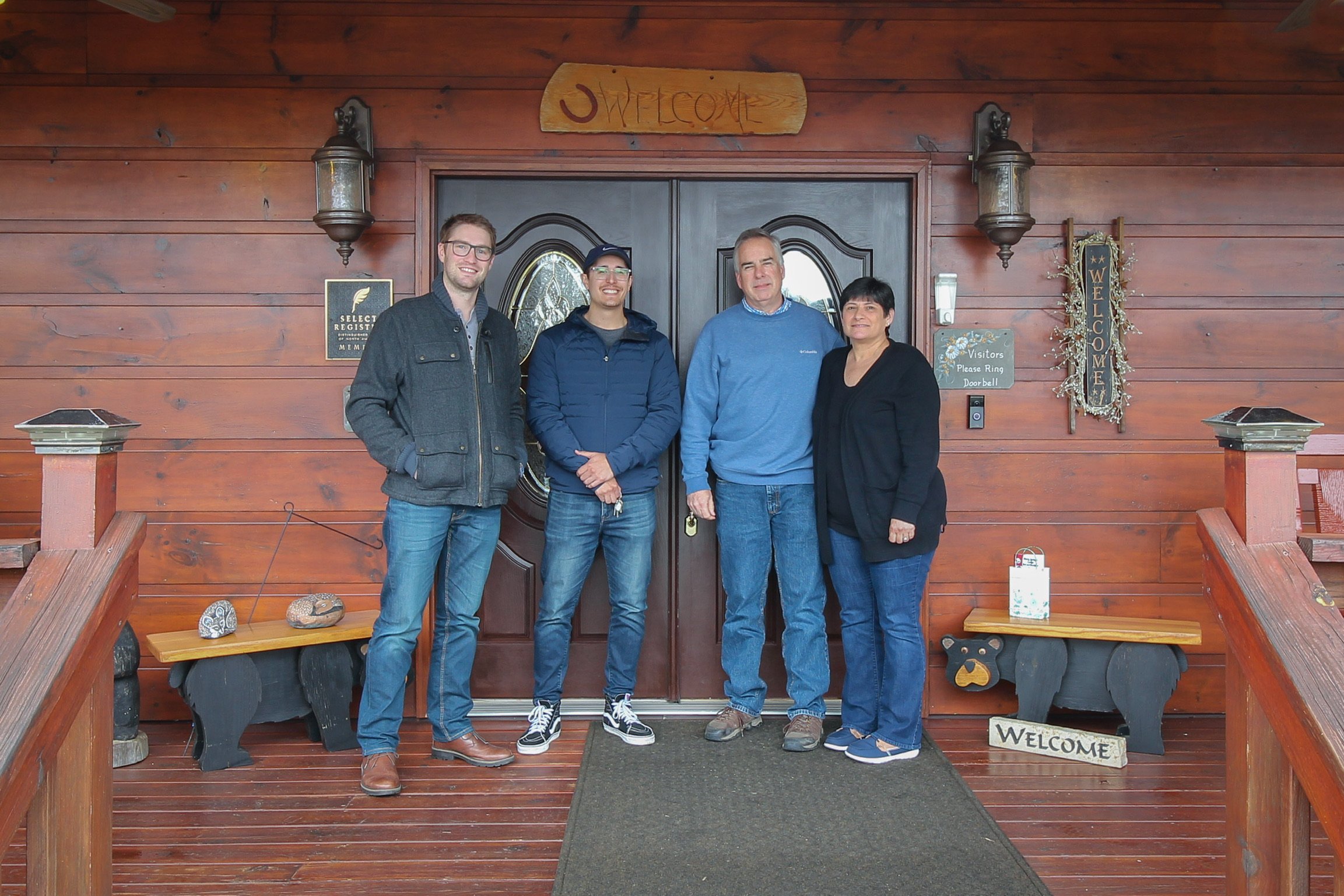 A note from the founders
Have you ever heard "home is where the heart is"? We think they should have added cool mountain breezes, beautiful sunrises over majestic peaks and people who are friendly and neighborly.
On March 15, 1999, we hiked to where the lodge sits today and looked at the splendid view. We both knew, at that moment, that our dream was about to come true. We worked for the next eight months designing the lodge.
On November 1, 1999 we broke ground. Patrick's father spent four weeks cutting in the road, leveling the ridge and excavating the basement. This was truly an exciting time to actually see construction.
December brought cool, rainy weather so we rushed to pour the foundation and the slab. On January 4, 2000 the framing started and we were able to complete the Lodge on July 4, 2000. We worked seven days a week for seven months.
- Patrick & Sue
In 2022, Patrick and Sue Eisert (pictured right) sold the lodge to Trae Robrock and Justin Gabriel (pictured left), but their legacy continues. All staff, amenities, bountiful breakfasts, delicious desserts, and everything there is to love about Berry Springs remains.
About the lodge
The lodge's living room boasts a grand pine and stone structure, furnished in elegant country style with large windows to admire the wildflowers blooming in spring. The expansive 2,000-square-foot living and dining space is complemented by a vast deck featuring rocking chairs, perfect for soaking in the tranquil mountain views.

Berry Springs Lodge ensures guests' comfort and satisfaction with meticulously clean rooms, high-quality linens, private bathrooms, TVs, balconies or patios, and individual climate controls. Each of the eleven rooms and two suites offers a unique ambiance for a romantic and peaceful retreat in this picturesque region. The upscale bathrooms provide excellent lighting, hairdryers, showers, irons, and ironing boards.

All rooms feature "Springs" in their names, reflecting the lodge's moniker. The Hideaway Springs Suite offers an intimate whirlpool tub, golden walls, a stone fireplace, and a secluded master bedroom with a king spindle bed. The Blackberry Springs Suite, painted in light ivy, exudes a soft, elegant atmosphere with an en-suite whirlpool, a carved mahogany rice bed, a spacious bathroom, cozy living room, and private deck.

The Raspberry Springs Room, overlooking Bluff Mountain, offers sublime sunsets from its private balcony. The vaulted ceiling, king-sized pencil poster bed, and fireplace provide added comfort. Similarly, the Royal Springs Room features a vaulted ceiling, fireplace, and mountain views from the balcony. The silky, gold comforter on the king-sized mahogany rice bed lends a regal touch.
The Royal Springs Room, facing the mountains, provides a king-sized mahogany rice bed adorned with a silky gold comforter, giving the room a touch of royalty. Its vaulted ceiling, fireplace, and private balcony allow guests to enjoy the picturesque views.

Every room and suite at Berry Springs Lodge is thoughtfully designed and furnished to ensure a memorable, serene, and romantic stay in the heart of the Smoky Mountains. With over 20 years of experience and a dedication to 5-star service, the lodge has become a cherished destination for many seeking the perfect blend of elegance and nature's beauty.
"Our experience was more than expected. The room was clean and comfortable and the views are beautiful. Everyone was extremely nice and always made sure we were taken care of. We will definitely be back!"
Berry springs lodge
Are you ready to book your luxurious romantic getaway?