LUXURY IN THE SMOKY MOUNTAINS
Discover Berry Springs Lodge: Gatlinburg's Finest Bed and Breakfast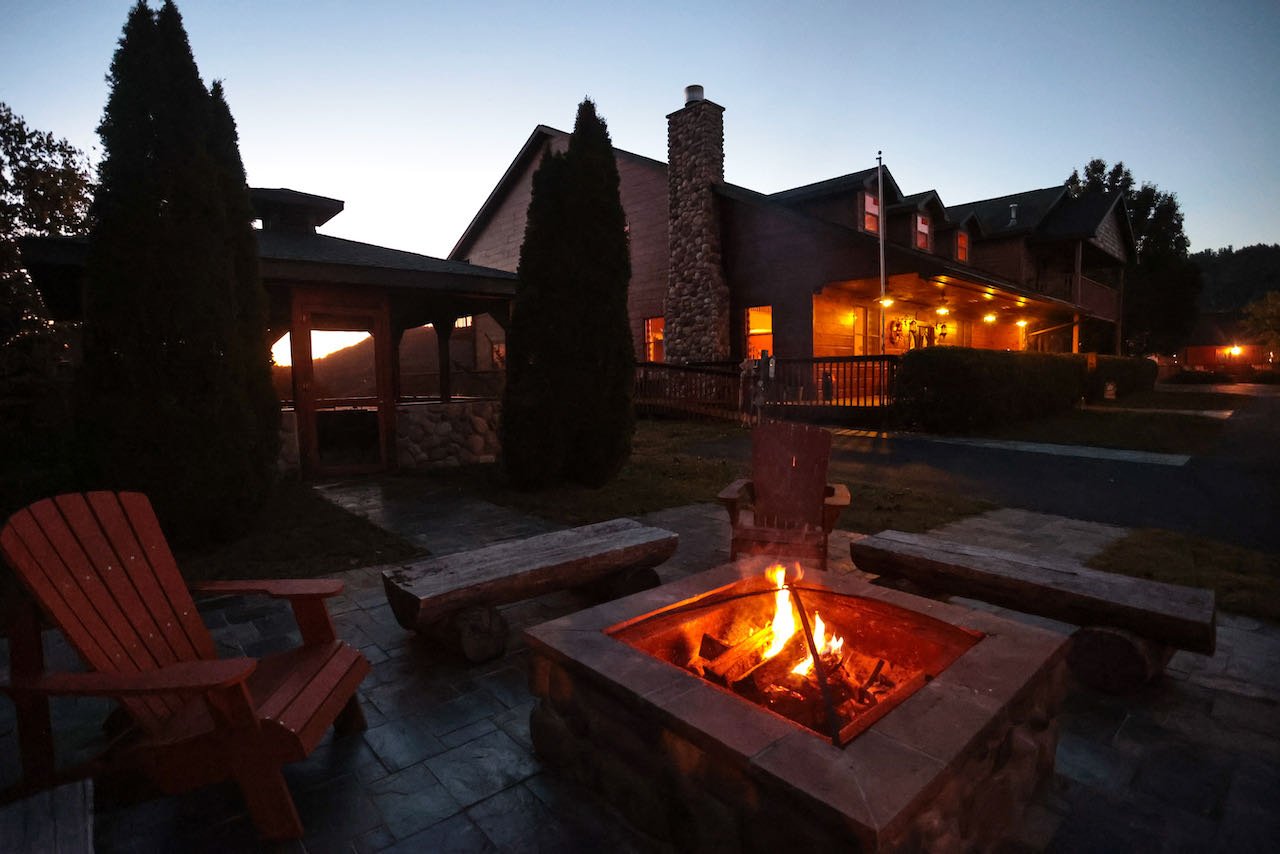 Located amidst the captivating base of the Smoky Mountains in Gatlinburg, Berry Springs Lodge is not just a luxury resort, but also a top-tier bed and breakfast. Our commitment at Berry Springs is to deliver unparalleled experiences imbued with sophistication and attentive service. This haven stands as an epitome of tranquility and rejuvenation for those seeking an authentic Gatlinburg escape. We're also advantageously situated near the mesmerizing Smoky Mountain National Park, the renowned Dollywood, elite shopping locales, and a spectrum of thrilling local excursions.
Adventure Beckons at Berry Springs Lodge
From our expansive deck, embrace the awe-inspiring vistas of the Smoky Mountains or set out to discover the expansive 33-acre landscape that surrounds our Gatlinburg bed and breakfast.
Angling aficionados can indulge in two well-stocked ponds brimming with bass and catfish, exclusively for catch-and-release enjoyment. And for our guests, fishing gear and bait are on the house – no license needed!
Down at our lower pavilion, switch between pool, ping pong, and basketball for some lively fun. And for those preferring a calm meal outdoors, picnic settings await.
Explore our terrain on our free mountain bikes, choosing between mountain paths or loop trails, tailored to your thrill level.
Venture through our serene nature trail, a wooded path inviting you to experience the wonders of the wild.
Challenge your precision with games like croquet or horseshoes, perfect for some friendly competition.
Glide over the tranquil waters in our canoes at no extra charge, offering moments of peaceful reflection.
For those chasing the sun, a pristine white sand area next to one of our ponds is the ideal sanctuary for basking.
Gatlinburg Bed and Breakfast Accommodations
Elite Sunrise Rooms
Experience the harmonious fusion of luxury and peace in our Elite Sunrise Rooms. Rejuvenate amidst the comfort of a king-sized bed, bask in the glow of the cozy fireplace, and dissolve your worries in your secluded outdoor jacuzzi. Savor breathtaking mountain panoramas from your terrace and welcome each dawn with the tender caress of the sun's first light.
Learn more about our bed and breakfast's Elite Sunrise Rooms.
Elite Vista Suites
Dive deep into the seamless fusion of opulence and calm in our Elite Vista Suites. Find restoration within the plush confines of a king-sized bed, relish the gentle warmth of the fireplace, and surrender your stress to the secluded indoor Whirlpool tub. Admire the spellbinding mountainous panorama from your terrace and greet every morning with the awe-inspiring majesty of the neighboring summits.
Learn more about our bed and breakfast's Elite Vista Suites.
Premium Sunrise Rooms
Indulge in the impeccable interplay of sophistication and peace in our Premium Sunrise Rooms. Nestle comfortably into the lavish king-sized bed, enjoy the gentle embrace of the fireplace's warmth, and immerse yourself in a sanctuary of restful delight. Behold the grandeur of the mountainous horizon from your terrace, and usher in every dawn with the breathtaking spectacle of the sun ascending the adjacent summits.
Learn more about our bed and breakfast's Premium Sunrise Rooms.
Premium Sunset Rooms
Plunge into the idyllic blend of class and calm in our Premium Sunset Rooms. Drift into relaxation on the opulent king-sized bed, delight in the soothing ambiance radiated by the fireplace, and revel in the room's tasteful elegance. Witness the mesmerizing mountain tapestry from your terrace and treasure every dusk as the sun dips below the regal mountain crests.
Learn more about our bed and breakfast's Premium Sunset Rooms.
Deluxe Sunset Rooms
Revel in the delightful amalgamation of coziness and tranquility in our Deluxe Sunset Rooms. Settle into the snug embrace of the queen-sized bed, absorb the room's calming aura, and lose yourself in this serene oasis. Feast your eyes on the magnificent mountain views from your window, and be enchanted by the sun's evening dance, painting the heavens in its descent.
Learn more about our bed and breakfast's Deluxe Sunset Rooms.
View all room types at our Gatlinburg bed and breakfast here.
Explore the Private 33 Acres of Pristine Smoky Mountain Landscape
Berry Springs Lodge boasts more than 30 acres of private land in the heart of the Smoky Mountains, providing the perfect setting for romantic strolls, intimate picnics, and breathtaking views. Immerse yourselves in the natural beauty of this unique location and create memories that will last a lifetime.
Check out more photos in our gallery.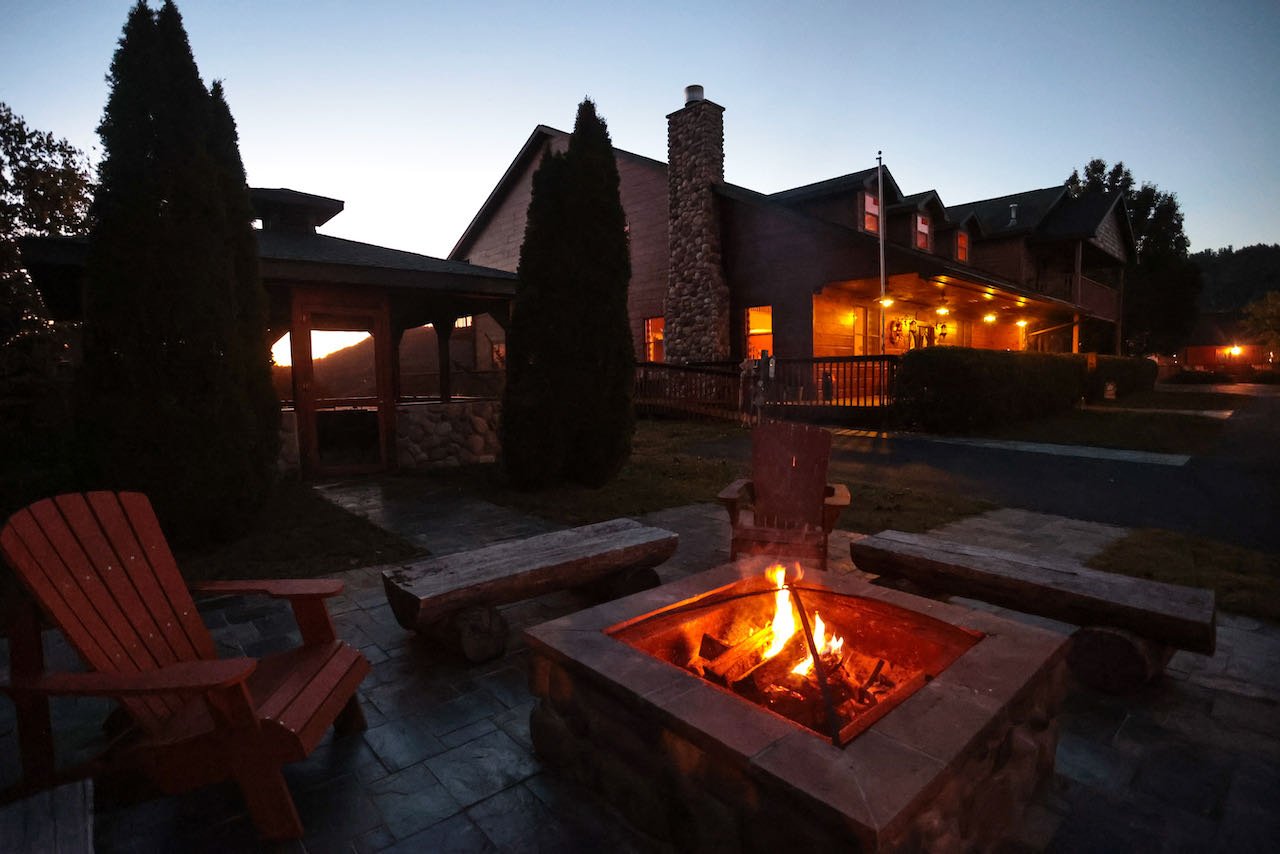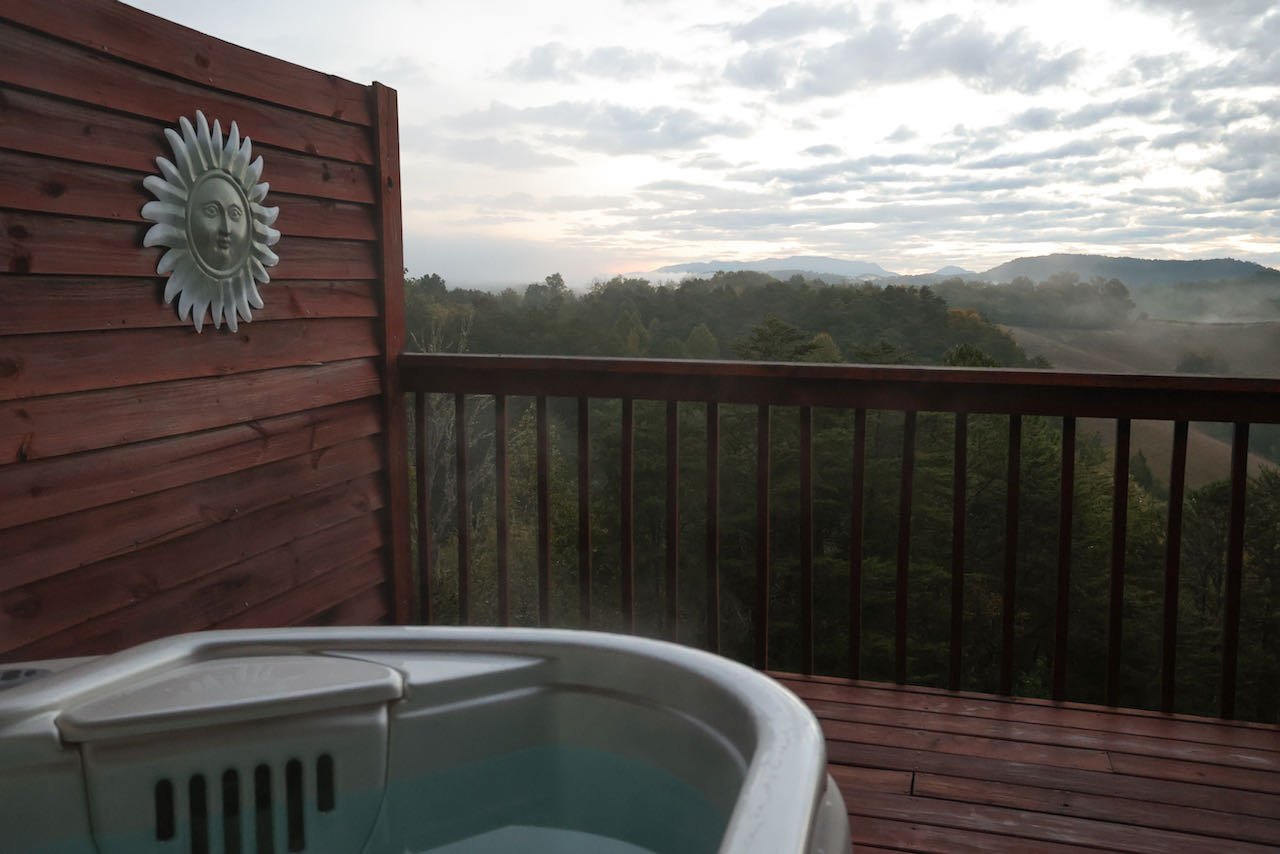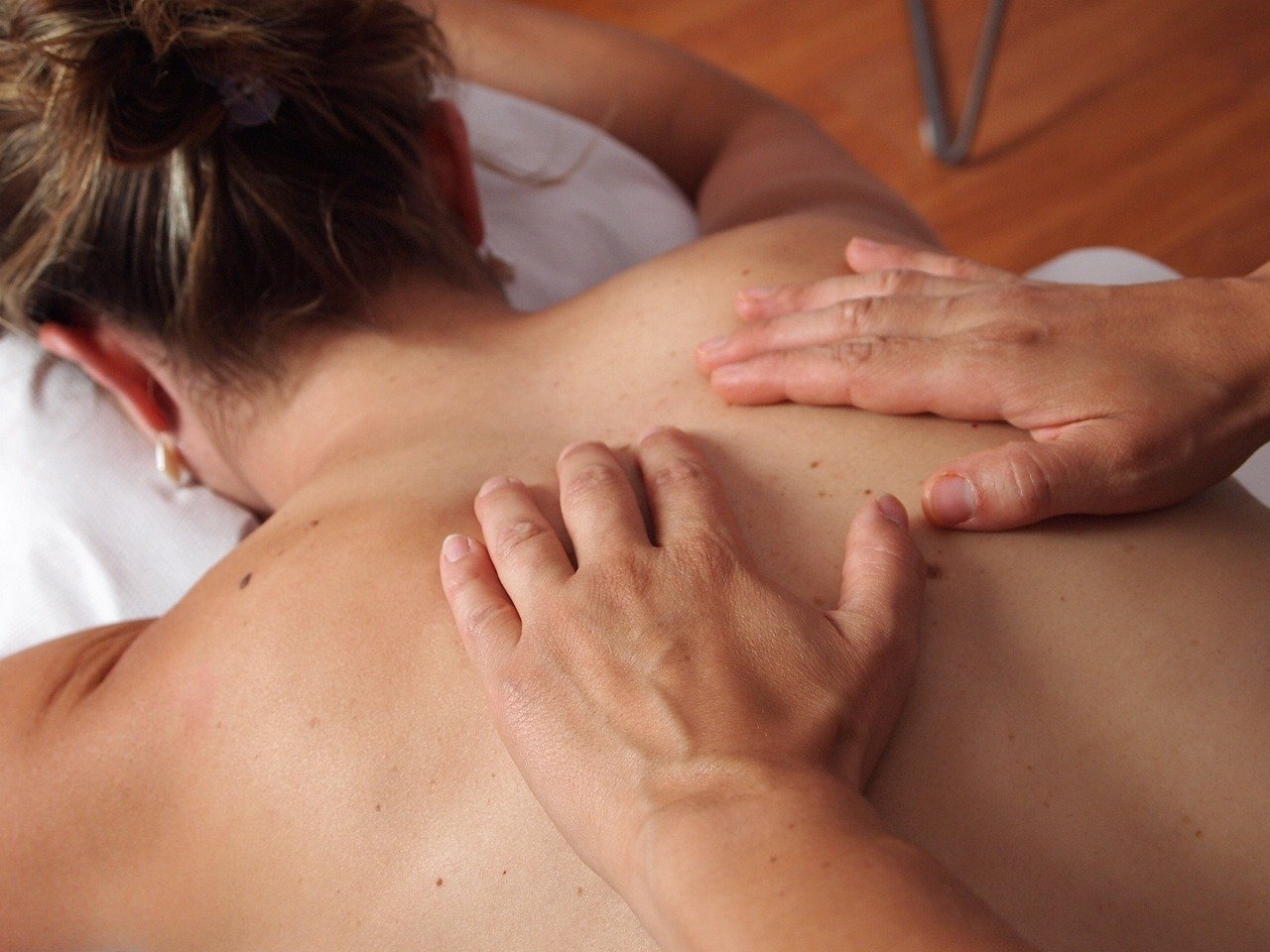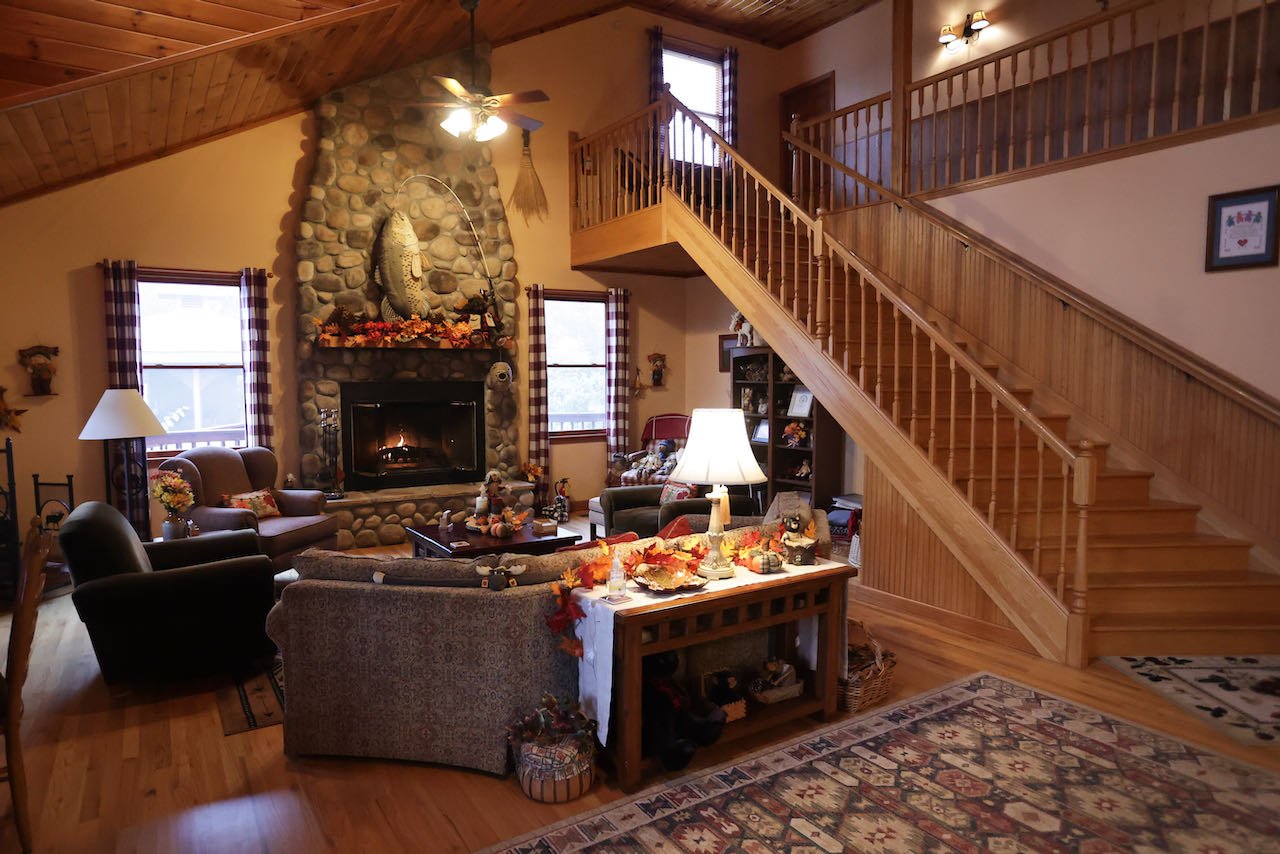 "Berry Springs Lodge is absolutely awesome! You will not regret your stay here. After a long day of hiking, we loved coming home to Berry Springs to enjoy the amazing views, have some delicious dessert and soak in the Jacuzzi! Amazing and sweet people who go above and beyond to make your stay amazing!"
Luxurious Amenities and Experiences
In addition to the exclusive experiences included in our Ultimate Romantic Package, you will have access to all of Berry Springs Lodge's luxurious amenities. Cozy up by our outdoor fire pit, take a dip in your hot tub, or challenge your partner to a friendly game of pool in our pavilion. Our attentive staff is always on hand to cater to your every need, ensuring that your vacation is as relaxing and enjoyable as possible.
Explore Gatlinburg and the Smoky Mountains
Berry Springs Lodge is conveniently located just a short drive from downtown Gatlinburg, striking the right balance between solitude and accessibility. Dine at local restaurants, dive into the rich arts and crafts culture, or embark on exciting outdoor activities in the Great Smoky Mountains National Park. Our knowledgeable staff is here to help you plan an itinerary that ensures your vacation is truly unforgettable.
Begin Your Day with Our Gourmet Breakfasts
Every stay at Berry Springs Lodge starts with a daily gourmet breakfast. With a menu that changes regularly, our skilled chefs ensures every dish is a delightful blend of flavor and freshness, crafted from local ingredients. Choose to dine in our cozy dining room or relish your breakfast on the porch with the mountains as your backdrop, making every morning unforgettable.
Tailor Your Stay with Exclusive Add-Ons
We recognize the uniqueness of each vacation. That's why, beyond our packages, Berry Springs Lodge offers a range of exclusive add-ons to tailor your experience. Discover all our packages and additional options here.
Recharge with a Tranquil Couple's Massage
Kickstart your Gatlinburg vacation with our Ultimate Romantic Package offering with a calming couple's massage, delivered in the serene ambiance of your room. Let our seasoned masseurs ease away tensions, ensuring both of you emerge refreshed and in sync. This peaceful session is an idyllic opportunity to relish shared moments against the soothing backdrop of the Smoky Mountains.
Our Dedication to a Sustainable Smoky Mountain Future
Sustainability and eco-friendly operations are at the heart of our ethos at Berry Springs Lodge. With energy-saving lights, efficient water systems, and active recycling initiatives, we're doing our part. Our preference for local sourcing further minimizes our carbon footprint, simultaneously uplifting our community. By selecting Berry Springs Lodge, your vacation becomes part of a movement towards a more sustainable world.
Engaging Activities for Your Gatlinburg Bed and Breakfast Vacation
The Great Smoky Mountains National Park – Perfect for hiking, observing wildlife, and scenic drives.
Dollywood – Experience thrilling rides and captivating live performances.
Gatlinburg SkyLift Park – Breathtaking views await from the SkyBridge and SkyDeck.
Ripley's Aquarium of the Smokies – Dive into a world of marine wonder with interactive displays.
Gatlinburg's Thriving Arts and Crafts Scene – A celebration of local craftsmanship and unique creations.
Service Beyond Excellent for an Unforgettable Vacation
Our team at Berry Springs Lodge is dedicated to excellence. From your arrival to your farewell, we prioritize making your stay impeccable. Whether you're looking for activity recommendations, restaurant bookings, or have any bespoke requests, we're here to ensure your vacation is unparalleled in its perfection.

Your bed and breakfast vacation in the heart of the Smoky Mountains is just a click away. Berry Springs Lodge, with its luxurious offerings and unmatched service, pledges a memory you'll hold dear forever. Secure your ideal escapade now, and embark on your next chapter in Gatlinburg!
All Gatlinburg Bed and Breakfast Room Types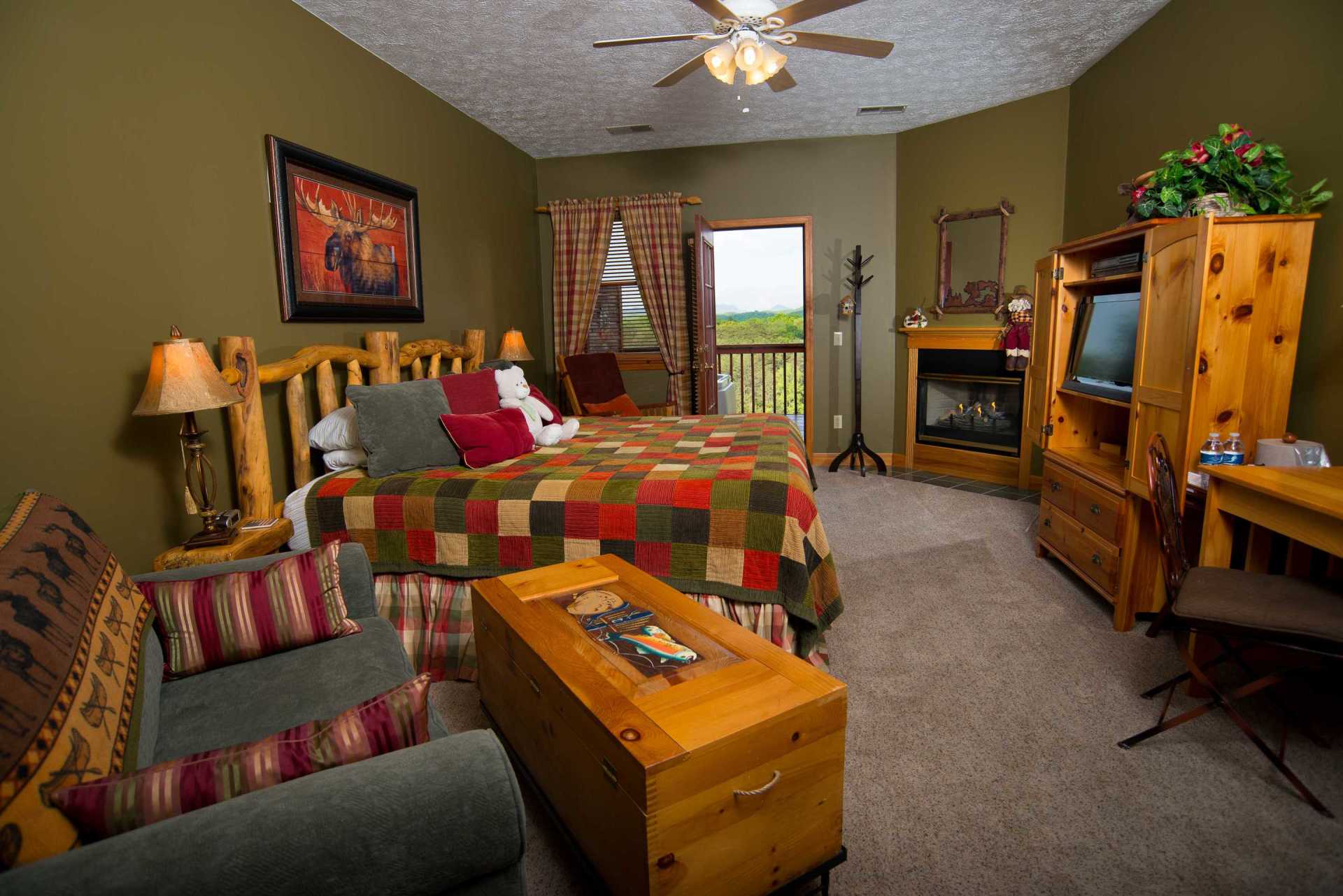 Elite Sunrise Rooms
Sunrise view

King-size bed

Fireplace

Private hot tubs
Watch the sunrise from your private balcony and hot tub, and then relax by your own fireplace.
Honeysuckle Springs

Colorado Springs

Newberry Springs

Holly Springs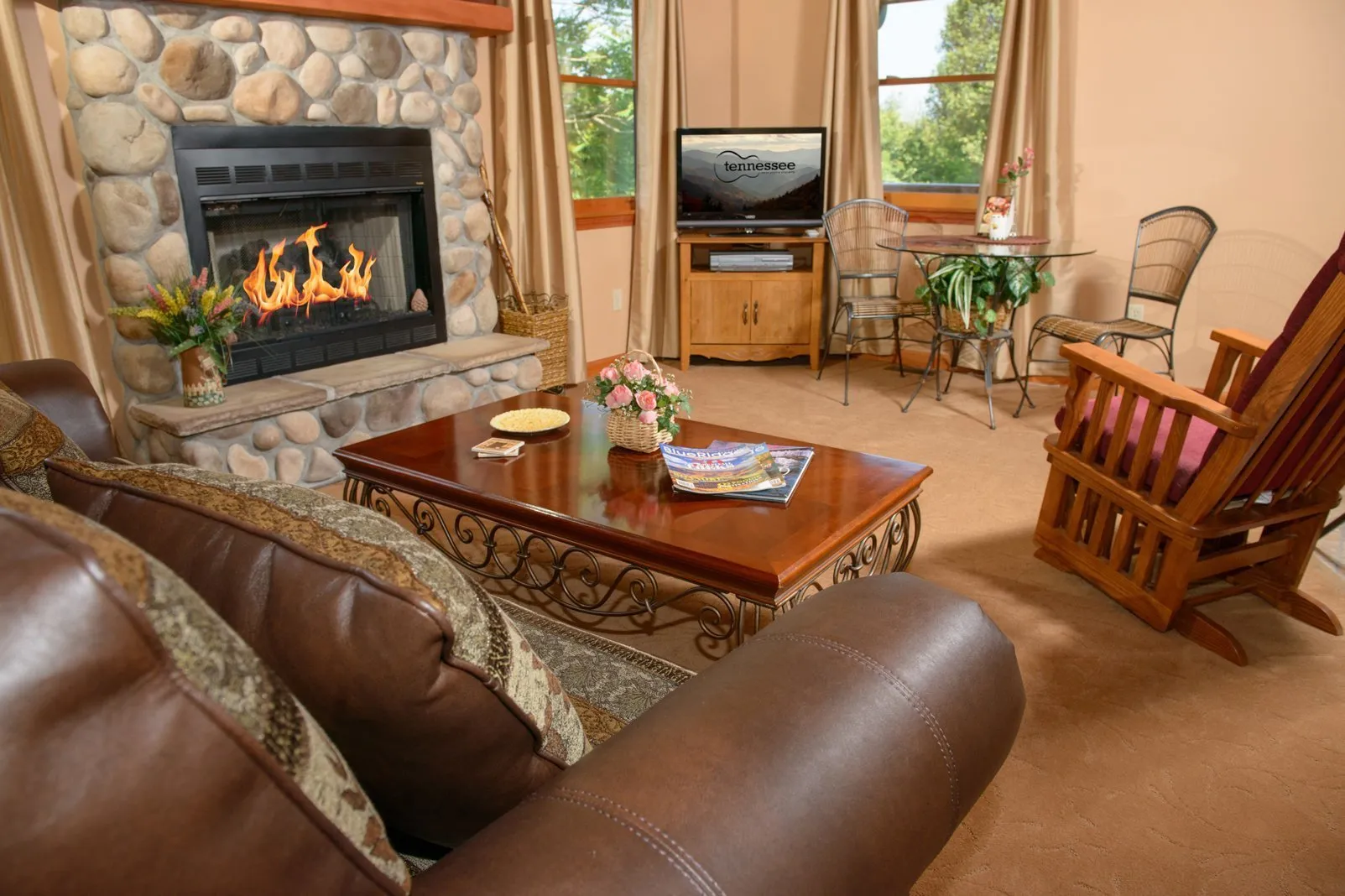 Elite Vista Suites
Mountain view

King-size bed

Fireplace

Living room & kitchen
Our suites offer private Whirlpool tubs, balconies, living rooms, and kitchen items.
Blackberry Springs Suite

Hideaway Springs Suite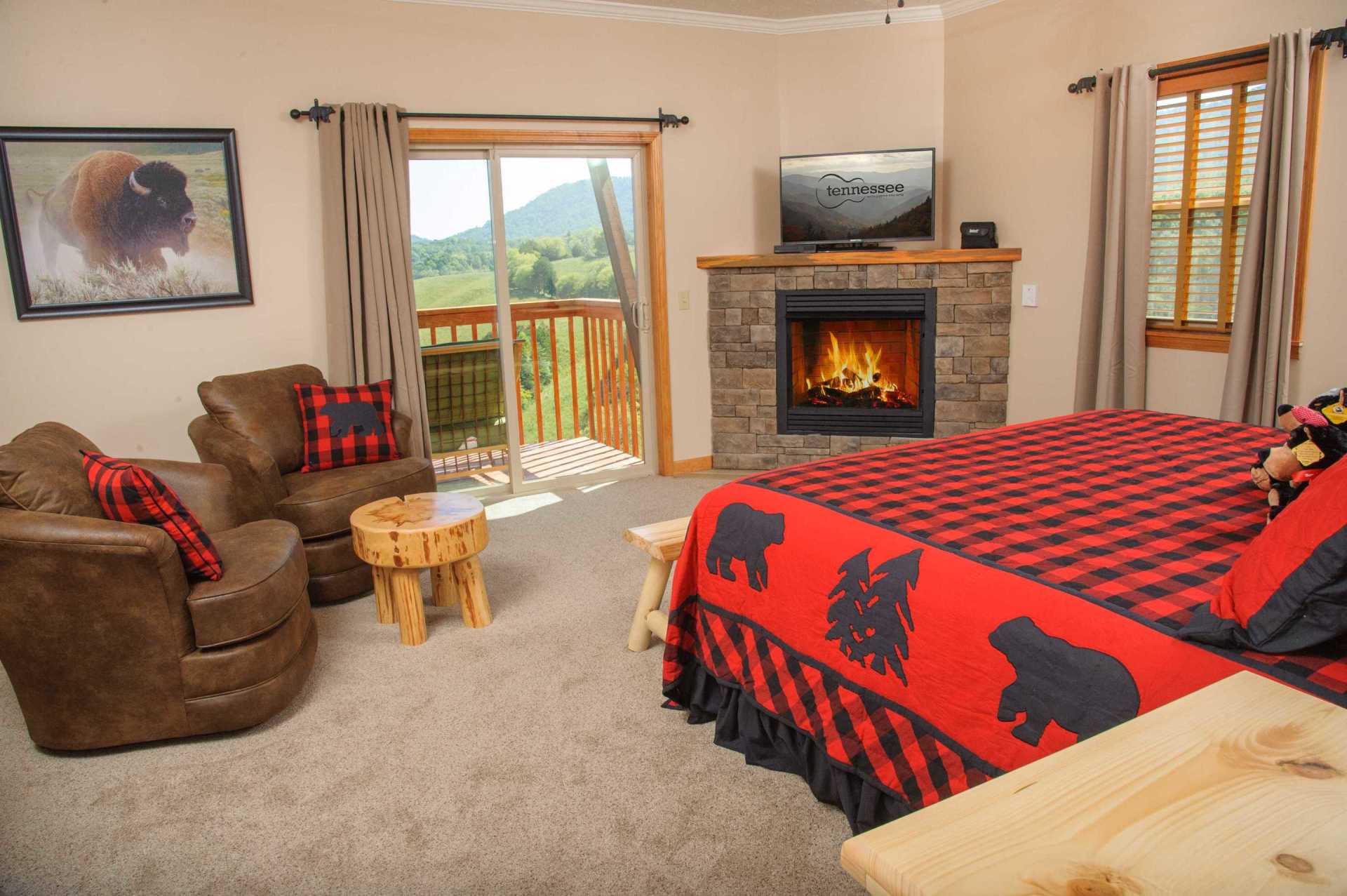 Premium Sunrise Rooms
Sunrise view

King-size bed

Fireplace
These spacious rooms feature sunrise views and balconies with cushioned chairs.
Maple Springs

Buffalo Springs

Autumn Springs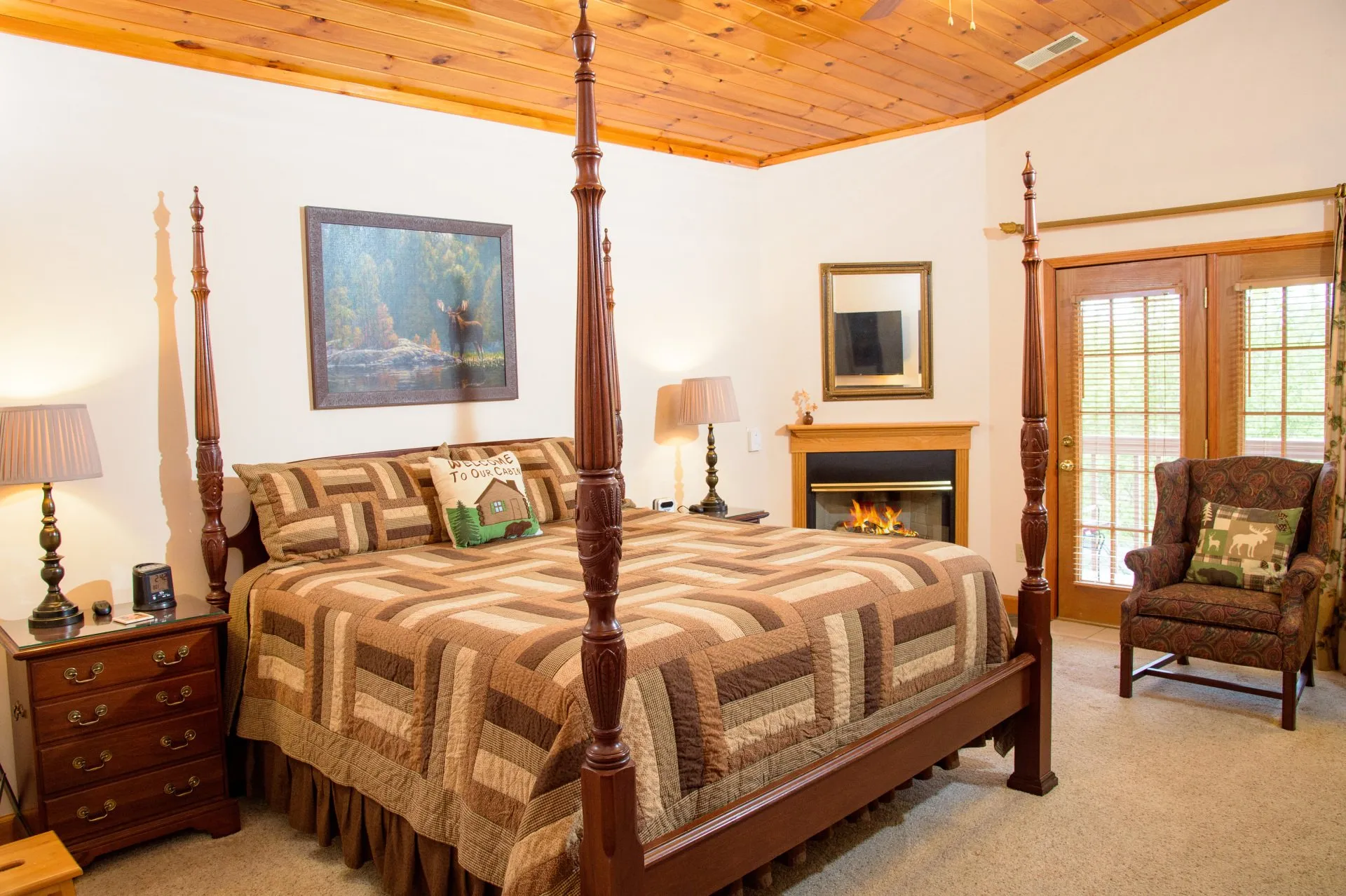 Premium Sunset Rooms
Sunset view

King-size bed

Fireplace
Watch the sunset from your private balcony with cushioned chairs, and then relax by your fireplace.
Royal Springs

Raspberry Springs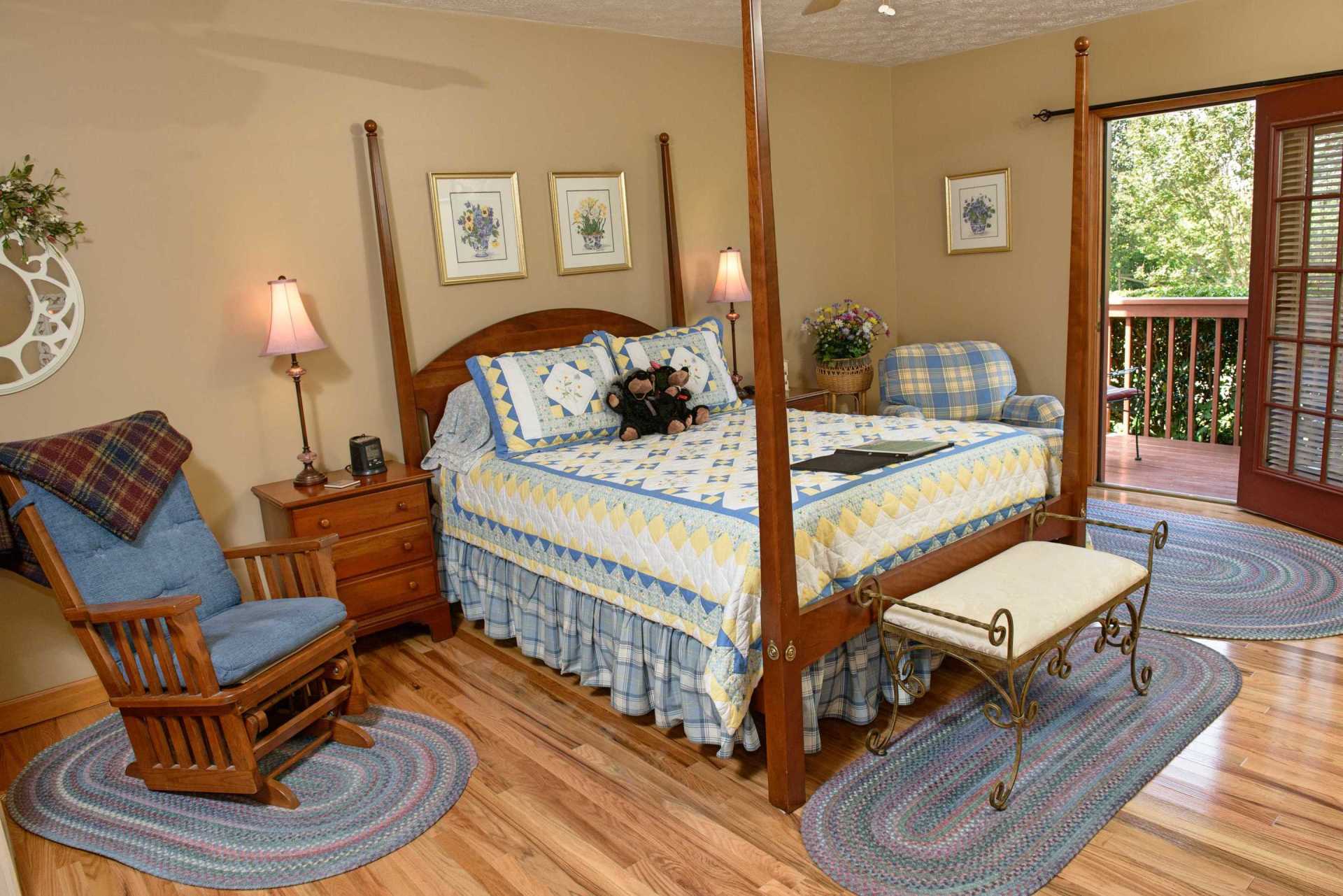 Deluxe Sunset Rooms
Sunset view

Queen-size bed
Our Sunset View Queen Rooms are on the first floor and offer cozy accommodations.
Crystal Springs

Powder Springs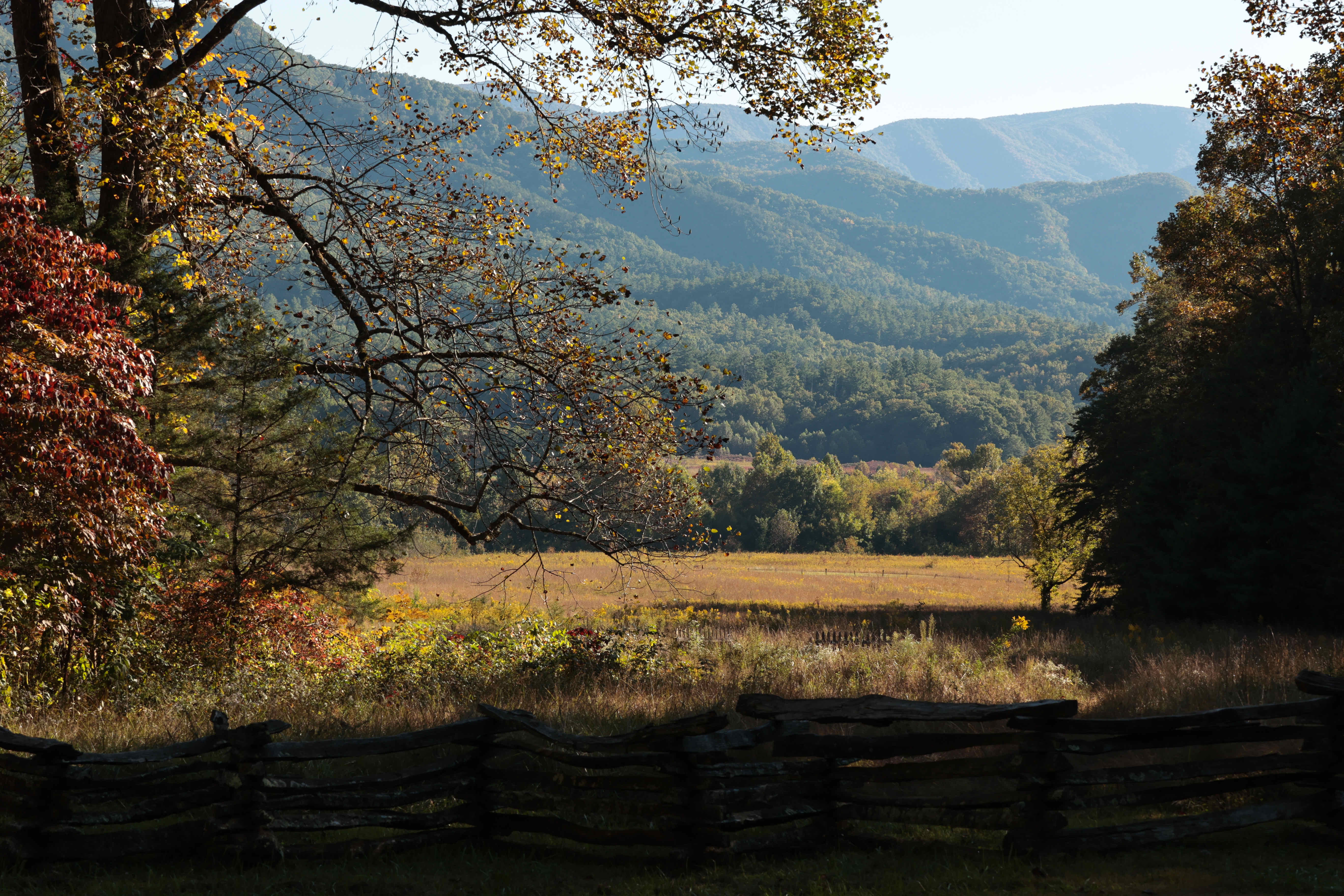 Dining, adventure, and more
All reservations include a fresh-cooked breakfast, dessert, and access to all 33 acres of our property.
"Beautiful property with mountains all around. Location is quiet and peaceful. The staff is phenomenal. Food is excellent. Extremely clean. One of our favorite places to visit. I would highly recommend for a mountain getaway. You can't go wrong here."
Berry springs lodge
Are you ready to book your luxurious romantic getaway?