LUXURY IN THE SMOKY MOUNTAINS
Discover the Perfect Honeymoon Package at Berry Springs Lodge
Nestled in the picturesque Smoky Mountains, Berry Springs Lodge offers the ultimate honeymoon package for couples seeking a rustic, luxurious, and unforgettable retreat. Our luxury accommodations and amenities create the perfect ambiance for romance and relaxation, as you celebrate your love and embark on your new journey together.
We recommend our Ultimate Romantic Package for all honeymooners, as well as our Elite Sunrise Rooms or Elite Vista Suites.
Unwind with a Relaxing Couple's Massage
Our honeymoon package (Ultimate Romantic Package) begins with a soothing couple's massage in the tranquil surroundings of your room. Our expert therapists will work their magic to relieve any stresses, leaving you both feeling rejuvenated and connected. This serene experience is the perfect way to unwind and enjoy each other's company in the peaceful setting of the Smoky Mountains.
Romantic Rose Petal Turndowns
As the sun sets, our attentive staff will prepare your room for a night of romance with our signature silk rose petal turndowns. Create an enchanting atmosphere perfect for celebrating your love.
Indulge in Decadent Chocolate Covered Strawberries
No honeymoon is complete without a touch of indulgence, and our half dozen chocolate covered strawberries deliver just that. Hand-dipped in rich, velvety chocolate, these delicious treats are the perfect way to end your evening or enjoy a sweet afternoon delight.
Seasonal Fresh Flower Bouquet
To further enhance the romantic ambiance, our honeymoon package includes a seasonal fresh flower bouquet placed in your room. Each arrangement is thoughtfully crafted with the finest blooms, adding a touch of elegance and beauty to your special getaway.
Explore the Private 30 Acres of Pristine Smoky Mountain Landscape
Berry Springs Lodge boasts more than 30 acres of private land in the heart of the Smoky Mountains, providing the perfect setting for romantic strolls, intimate picnics, and breathtaking views. Immerse yourselves in the natural beauty of this unique location and create memories that will last a lifetime.
Check out more photos in our gallery.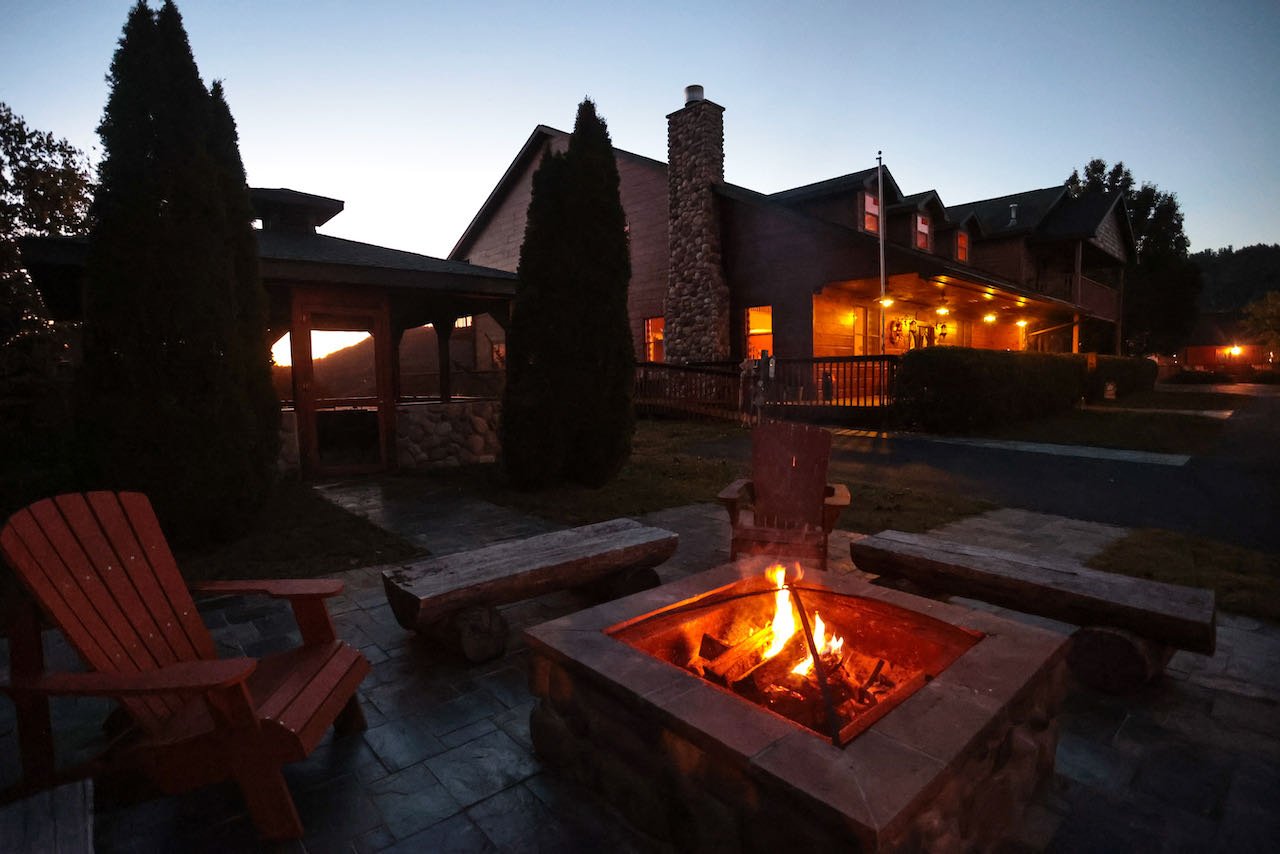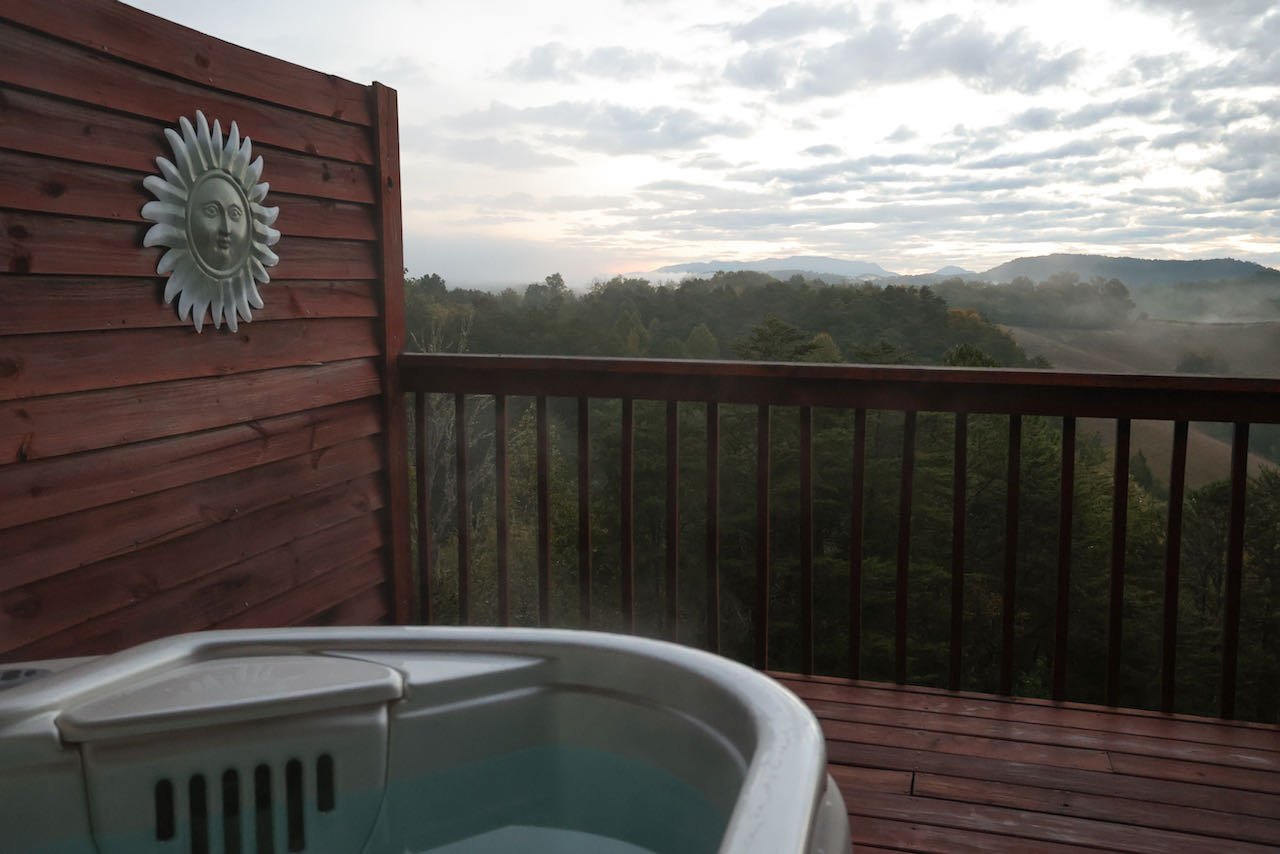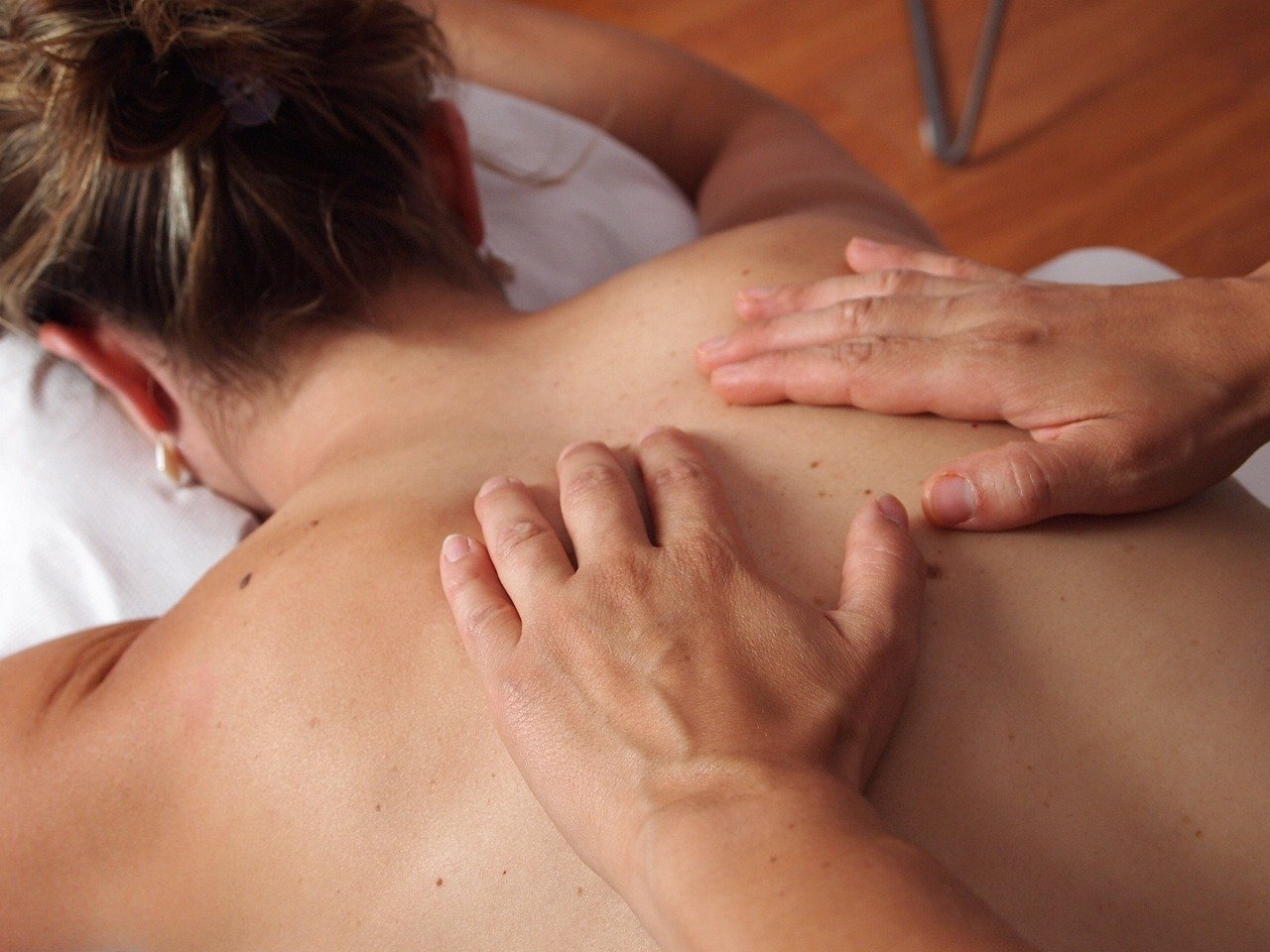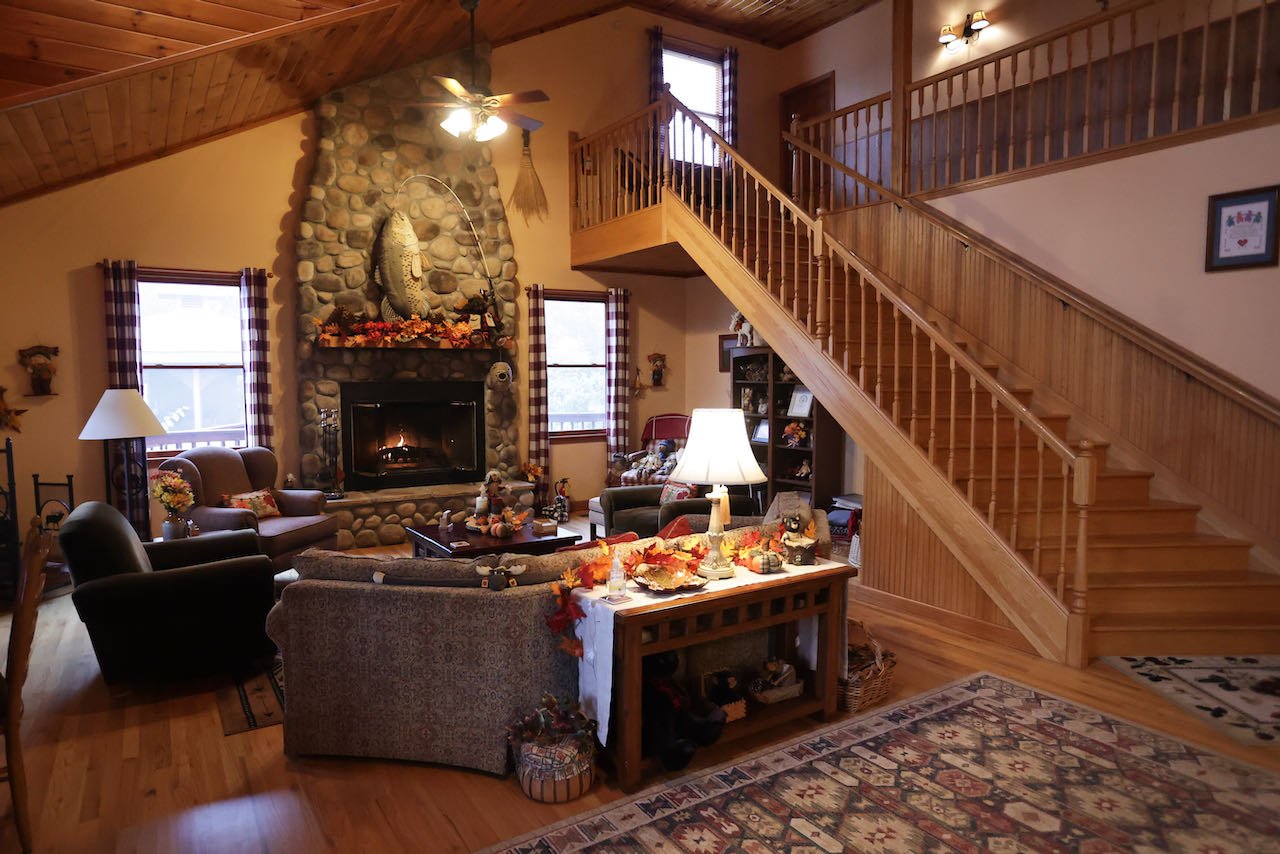 "Homey honeymoon!
The pictures don't do this place justice, the friendly staff, the detailed decor, the free amenities, excellent food. First place we have ever stayed and actually felt at home. If you are looking for that lodge get away you always imagined, this is in my opinion, the number one place to get it. They have earned our business for life."
Luxurious Amenities and Romantic Experiences
In addition to the exclusive experiences included in our honeymoon package (Ultimate Romantic Package), you will have access to all of Berry Springs Lodge's luxurious and romantic amenities. Cozy up by our outdoor fire pit, take a dip in your hot tub, or challenge your partner to a friendly game of pool in our pavilion. Our attentive staff is always on hand to cater to your every need, ensuring that your honeymoon is as relaxing and enjoyable as possible.
Discover Gatlinburg and the Smoky Mountains
Located just a short drive from downtown Gatlinburg, Berry Springs Lodge offers the perfect balance of seclusion and convenience. Enjoy romantic dinners at local restaurants, explore the vibrant arts and crafts community, or embark on thrilling outdoor adventures in the Great Smoky Mountains National Park. Our knowledgeable staff can assist in planning the perfect itinerary to make your honeymoon truly unforgettable.
Begin Your Happily Ever After at Berry Springs Lodge
With our luxurious accommodations, exclusive amenities, and stunning Smoky Mountain location, Berry Springs Lodge provides the ultimate honeymoon getaway. Our romantic honeymoon package is designed to create lasting memories, allowing you to relax, indulge, and celebrate your love in the most beautiful setting. Reserve your unforgettable stay today and let us help you begin your happily ever after.
Private Balcony Views to Remember
Our Elite-series and Premium-series suites and boast private balconies, offering sweeping views of the Smoky Mountains or our serene property. Savor a morning cup of coffee, toast to your love, or simply take in the natural beauty that surrounds you as you start this new chapter together.
Gourmet Breakfasts to Start Your Day
Your honeymoon experience at Berry Springs Lodge also includes a daily gourmet breakfast. Our talented chef crafts a rotating menu of delicious dishes, made from the freshest local ingredients. Enjoy your meal in our charming dining room or on the porch overlooking the mountains, ensuring a memorable start to each day of your stay.
Exclusive Add-Ons for a Personalized Experience
At Berry Springs Lodge, we understand that each couple is unique, and we strive to make your honeymoon as personalized as possible. In addition to our packages, we offer a variety of exclusive add-ons to enhance your stay. You can view all packages and extras here.
A Commitment to Sustainability and Eco-Friendly Practices
At Berry Springs Lodge, we take pride in our commitment to sustainability and eco-friendly practices. Our property features energy-efficient lighting, water-saving measures, and recycling programs. We also source locally whenever possible, ensuring a lower carbon footprint while supporting our community. By choosing Berry Springs Lodge for your honeymoon, you're not only experiencing an unforgettable getaway but also contributing to a greener, more sustainable world.
Things to do on Your Honeymoon in Gatlinburg
The Great Smoky Mountains National Park – for hiking, wildlife viewing, and scenic drives
Dollywood – the renowned amusement park with thrilling rides and live entertainment
The Gatlinburg SkyLift Park – offering stunning views from the SkyBridge and SkyDeck
Ripley's Aquarium of the Smokies – a top-rated aquarium with interactive exhibits
Gatlinburg's vibrant arts and crafts community – showcasing local artisans and unique handcrafted items
Exceptional Service to Make Your Honeymoon Unforgettable
Our dedicated team at Berry Springs Lodge is committed to providing exceptional service throughout your stay. From the moment you arrive until the time you depart, our staff will ensure that your honeymoon is seamless, allowing you to focus on enjoying your honeymoon. Whether you need assistance with planning activities, reservations, or have any special requests, our team is here to make your honeymoon truly unforgettable.
Don't wait any longer to begin your fairy tale honeymoon in the heart of the Smoky Mountains. With our luxurious honeymoon package and world-class service, Berry Springs Lodge promises to deliver an experience you will cherish for a lifetime. Reserve your romantic getaway today and start your happily ever after in the Gatlinburg area!
"Beautiful property with mountains all around. Location is quiet and peaceful. The staff is phenomenal. Food is excellent. Extremely clean. One of our favorite places to visit. I would highly recommend for a mountain getaway. You can't go wrong here."
Berry springs lodge
Are you ready to book your luxurious romantic getaway?